Karen Lee's Bio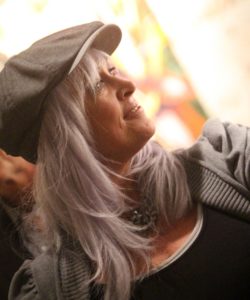 Karen Lee is currently fulfilling her passion for singing with her husband.  Her dreams came true that she was finally able to fulfill her lifetime wishes of singing professionally. She is singing the songs she loves from " The Great American Songbook", with arrangements by her husband.
Karen explains, " I have been enrolled in the "N.B.A.O.M.", for 25 glorious years. It's the "Neil Bridge Academy Of Music!"
You can check out her performances at the City Park Jazz Festival 2014,  Recording Session at Mighty Fine Production  and the most recent Neil Bridge 7+ featuring Karen Lee, Live at Nissi's 2017.
Karen Lee is so proud to be 3rd generation in the Entertainment Industry. For more than 50 years, Karen's Grandfather, Max Kearson, promoted shows in Scranton, Pa., (where Karen was raised), and other eastern cities, bringing big-name entertainment to eager fans.
He started out by running 25-cent dances in the 1920s.  Then brought in bands like Jan Garber and Fletcher Henderson and jammed the dance halls.  In the 1930s, he booked Guy Lombardo, and from that day on he brought in bigger stuff.  Entertainers such as Liberace, Bobby Vinton, Johnny Mathis, Sammy Davis Jr., Harry Belafonte, Glenn Miller Orchestra, The Dorsey Brothers, Buddy Rich, Dean Martin and Jerry Lewis and countless others.  He even brought in Frank Sinatra when he crooned for the Harry James and Dorsey Brothers Bands.
Karen had the privilege of seeing and hearing and meeting many of these performers. She was especially thrilled when her grandfather booked the Count Basie Orchestra in a special performance celebrating Max's 50 Anniversary in the Entertainment Industry!
Her Uncle Barry Kearson was a booking agent and started the Millard Agency and Shady Management in association with Bill Graham in San Francisco. He has been associated in the music industry with many legendary artists including The Grateful Dead, Santana, The Beatles, and more. He is currently working as a Producer and Director in Los Angeles.
Karen's cousin, Larry Gelb was child prodigy who began composing at 8 years old. He became a professional Jazz Pianist as a teenager and has written of 800 songs to date, along with musicals and film scores.